December 3, 2018
"The Ones Left Behind"
Teens Take Charge returned to the Brooklyn Central Library's Dweck Cultural Center for an evening of testimony about the hundreds of thousands of students being left behind in New York City public schools. An estimated 250 guests packed into the auditorium, and dozens more watched a simulcast in the lobby. Seventeen students, including Youth Poet Laureate Camryn Bruno, told stories about inequitable access to sports and special education services, discrimination and bullying, resource disparities, unfair admissions policies, and lots more.
Following the student performances, adult experts Nikole Hannah-Jones, Dr. Jeanne Theoharis, and Lazar Treschan shared their own testimony and then took questions on a student-adult panel.
Finally, policy team members Coco Rhum and Lennox Thomas described our campaigns for high school admissions reform and democratic student representation before unveiling a comprehensive policy platform with more than two dozen recommendations divided into eight issue areas.
May 17, 2018
"A Day in Our Shoes"
On the 64th anniversary of the Brown v. Board of Education Supreme Court ruling, 27 education policymakers, including six elected officials, took part in morning school visits at 21 schools across four boroughs. They met with students, sat in on classes and discussed issues of race and equity in our schools.
At 1:00 p.m., a group of 76 policymakers, students, and educators joined us for a luncheon to commemorate the anniversary with a commitment to action. In addition to several student leaders, we heard inspiring words from NYC DOE chief operating officer Ursulina Ramirez, NAACP Legal Defense Fund senior counsel Rachel Kleinman and City Council Member Ritchie Torres.
More than 40 adults signed commitment cards to meet with Teens Take Charge student leaders, share our Enrollment Equity Proposal and/or host focus groups with high school students in their districts before the end of 2018.
MARCH 29, 2018
"We regret to inform you"
A standing-room-only crowd packed into Brooklyn Central Library's Dweck Center for our third event, "We Regret to Inform You," which addressed inequities in the high school admissions process, a key driver of high school segregation. Students from across the city shared personal testimony about their experiences going through that process, and the unequal outcomes. But we didn't just focus on the problem. Members of our policy team shared a set of policy proposals that would promote integration by increasing academic diversity across the system. After the policy presentation, student and adult leaders discussed the enrollment issues in depth and agreed to take action to address them.
Big thanks to our adult panelists:
Panel for Education Policy Member April Chapman

City Council Member Brad Lander

Community Service Society Youth Policy Director Lazar Treschan
Read about the event: EdWeek | Mic.com | Chalkbeat | Long Island Report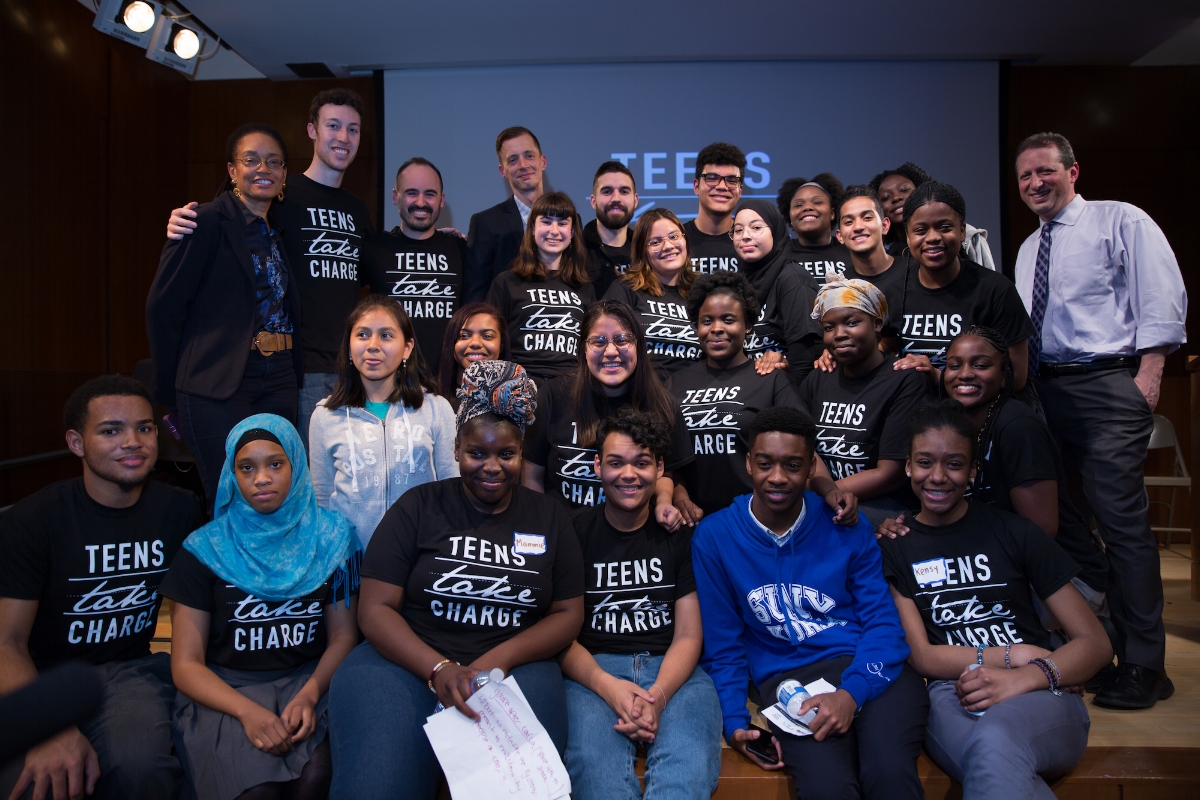 SEPT. 19, 2017
"Education Roundtable"
After being featured in the New York Times for our April kick-off event, we returned with an evening of unforgettable student testimony at the historic Schomburg Center for Research in Black Culture in Harlem. After the opening performances, politicians and school officials joined the students on stage for a candid conversation about the most pressing issues in the New York City public school system.
Adult panelists included:
NY State Assemblyman Michael Blake

NY State Assemblywoman Carmen De La Rosa

NYC Department of Education Chief Operating Officer Ursulina Ramirez

City Council Member Brad Lander

Young Men's Initiative Executive Director Cyrus Garrett

District 8 Superintendent Karen Ames
Official Sponsors and Partners: The Bell, Education Reform Now, JMD Foundation, Handwritten, New York City Education Council Consortium, Organizing for Action, New York, YVote, Alliance for School Integration and Desegregation
April 28, 2017
"To whom it should Concern"
Our inaugural event featured testimony from a dozen students on educational inequity. Students read open letters, rapped, and performed spoken word poetry before an enthusiastic audience of policymakers, educators, and community members.
The evening's theme was "To Whom it Should Concern," a signal to people in power to pay closer attention to the issues students describe.
Below are a few videos and images from the event.